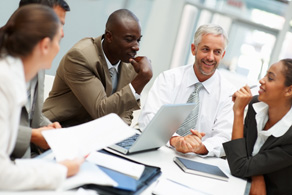 Product Information
Solutions
Downloads
IncidentMonitor™ Service Desk and ITIL® Software Features Overview
The following sections outline the different features of IncidentMonitor™, organized into various areas of interest.

We were going to list all features on this page. However, the list is VERY long. To avoid you having to scroll through a long list, we would like to invite you to attend an on-line demo where you can have a first-hand look at the features which are important to you.
Platform / Architecture
Single platform to develop, test and maintain. A single platform reduces our (Monitor 24-7's) cost significantly and allows very fast product development. This cost saving is passed on to our customers. Developing for a single platform significantly increases the quality of our software over other ITSM vendors.
Open architecture interacts with other products and platforms using standards based technologies e.g. COM, XML, .NET.
100% Web Based for all functionality.
Full Windows client for high-end Call Centers or power users.
Advanced automation for authorizations, approvals, alerts, and dynamic field changes.
Enterprise class solution for implementing service management across the entire enterprise.
Scalable, flexible, extensible allows you to support from few hundred to a few million end users.
Global application supports people around the world in different languages time zones and corporate offices.
Unlimited file attachments for any size and type of documents.
Multi-channel support for Windows, browser, E-mail and wireless hand-held devices.
Processes / Compliance / Work flow (ITIL® / SOX)
SOX compliance through automated work flow for complete transaction journal and audit trail.
IT Infrastructure Library (ITIL®) achieved PinkVERIFY™ 2011 certification.
ITIL® compatible processes to allow modelling of your own ITIL® processes within the IncidentMonitor™ framework.
Define and immediately create any work flow process using our robust, graphical work flow designer tool.
Implement advanced work flow support using serial and parallel work flow processing. Execute event scripts to support corporate system integrations.
Service Management
Graphical Workflow Designer to create the most advanced workflows
Graphical Service Catalog Designer to create smart forms which can kick off unique workflows. Present the services you like.
Service level rules to support service management policies using hours of operation and service types.
Supports multiple business units while controlling security access to each business unit's processes.
Multiple time zone support to handle clients and support staff around the world.
Service Level Agreements for operational support compliance measuring and metrics.
Network Management create requests and whiteboard alerts from network management events.
Network Management simple yet robust integration to any monitoring tool. Network Management integration implemented using web services, email or COM+.
Categorization supports 6 levels for maximum flexibility.
Service Matrix defines policies for managing all tickets and requests to support the business objectives.
End to end service management for automating any business process.
Service queue management allows users to view their tickets and request in the service queue, which manages customer expectations.
End User / Self Help
Service Catalog has integrated electronic forms to capture information from end users at request submission.
Windows, Web, E-mail and hand-held clients (e.g. Blackberry, Pocket PC phones, Andriod and iOS devices).
Self Service Knowledge Base can index off the shelf content or your own documents.
Security Controlled Knowledge Base limits access to content based on the user's security role membership.
E-mail access to create requests, update requests and search the knowledge database.
Whiteboard / Notifications to convey information to your user community.
Service portal allows access to customer dashboards, tickets and KB searches.
My IncidentMonitor™ allows users to choose their own dashboards and widgets for their service portal.
Automated notification messages using custom formats will allow you to produce rich HTML or plain text email messages. Robust multi-lingual support.
Resource Management
Skills Based Routing for automating the assignment to subject matter experts or queues.
Design Your Own Team structure for assignment using skills based routing.
Supports multiple queues simultaneously at any support level.
Supports dynamic load balancing for distributing workload across resources and teams.
Queues and load balancing can be used simultaneously for optimum service management.
Multi-channel support for Windows, browser, E-mail and mobile devices.
Locale and time zone settings to allow each individual to work in their own time zone and language.
Asset Management / Configuration DB (CMDB)
Track any asset such as PCs, phones, desks, chairs, software, etc. Completely extensible and comes with 60 pre-defined asset types.
Asset Financials tracking for all aspects of purchasing, leasing, maintenance and depreciation schedules by asset locations.
Location Management allows you to allocate and track assets by country, state/province, region, city, building, floor and room.
Asset Domains allows you to isolate different pools of assets to different departments/locations based on security.
Asset Topology gives a graphical view of your environment.
Visual impact analysis shows what assets are impacted by a failure of a given asset.
Bar code and RFID support for physical asset inventory and reconciliation.
Performance Management
Drill Down Dashboards presents high-level information and easily provides access to supporting data for further analysis.
Time and billing tracking of all actions performed throughout the service life cycle.
Performance monitoring of key performance indicators.
System monitoring for resource dynamic balancing of workload.
Reporting / Metrics
Advanced reporting tool featuring 85 report templates and dashboards. An adhoc, Query By Example (QBE) tool is available which will allow you to define and save custom personal and public report templates.
Report Scheduling and Delivery manages the scheduling and delivery of reports. Scheduled reports can be emailed and/or saved to common folder.
Extensible Reporting Engine which will allow you to publish your custom Crystal reports to the IncidentMonitor reporting framework. Once published within the framework, the reports can be managed using IncidentMonitor's security roles and report scheduling and delivery functionality.
Data Access using standard system data views for custom reporting.
Component Object Model (COM) objects can be leveraged in other applications for tailored, interactive reports.
Flexibility / Customization / Automation / Integration
Graphical workload / process designer which is used design AND implement from simple to comprehensive work flows.
Graphical Service Catalog Designer which allows you to design your own unique web forms for your service catalog
Unlimited User Defined Fields on any request, asset, contact or company.
Define your own activities allows you to tailor the system to your terminology.
External Data from other systems can be used in the user defined fields.
Collaboration allows for bi-directional communication between processes (Incident/Problem, Incident/Change, etc.) with a full audit of all interactions.
Snap-Ins allow you to add your own controls for custom processing.
Synchronous/Asynchronous scripting can be added to tasks to support before/after events that allow you to add your own custom logic that participates with IncidentMonitor™ transactions.
Service Rules can use asynchronous scripting for extra flexibility and custom operations.
Security Controlled Custom Menus allows you to add custom windows that leverage IncidentMonitor's security model.
XML interchange for communicating with other systems as part of the core transactions.
Component Object Model (COM) objects can be leveraged in event logic and other applications for tailored, interactive fuctionality.
Security
Single Sign On using Active Directory, LDAP, eDirectory and NetWare NDS Support, allowing users to be authenticated via other directory systems.
Dynamic Contact Synchronization to any directory system such as Active Directory, LDAP, eDirectory and NetWare NDS.
Flexible Role Based Security allows all aspects of the system to be enabled/disabled for the user.
Password aging and complexity rules to age out passwords and enforce complexity rules.
Security Role Delegation allows you to control who can assign other users to security roles.
Licensing
Unlimited Contacts and Assets supported at no cost.
Pay Per Use Billings can support pay per use service based on number of calls, time or both.
Only Resources (who aren't a consumer of your service) require a license.
Fixed and Concurrent Licenses for resources that allow you to minimize the cost based on the person's function.
License Pools to allow the sharing of concurrent licenses.
ITIL Workflow and Service Catalogue Form Designer
IncidentMonitor Service Desk Software offers a workflow designer which helps you to create the most advanced process flows within a few clicks. Combine this Graphical designer with our Graphical Service Catalogue Form Designer and you get the most advanced and flexible solution.